Dans Win Four of Six This Week, In 1st Place Race
Danville Dans are finishing the end of the season strong. They split four games with Springfield - two home and two away - plus defeated Chillicothe Paints twice during the past week. They are just one game back of Springfield and Terre Haute for the 2nd Half lead.
Starting Tuesday, July 26, the Dans have 11 games left, including eight of them at home. They'll play Quincy four times, Lafayette four times, Kokomo once and Terre Haute twice. Come out and cheer on your Danville Dans!
Dans Bring 6-Game Winning Streak Into Homestand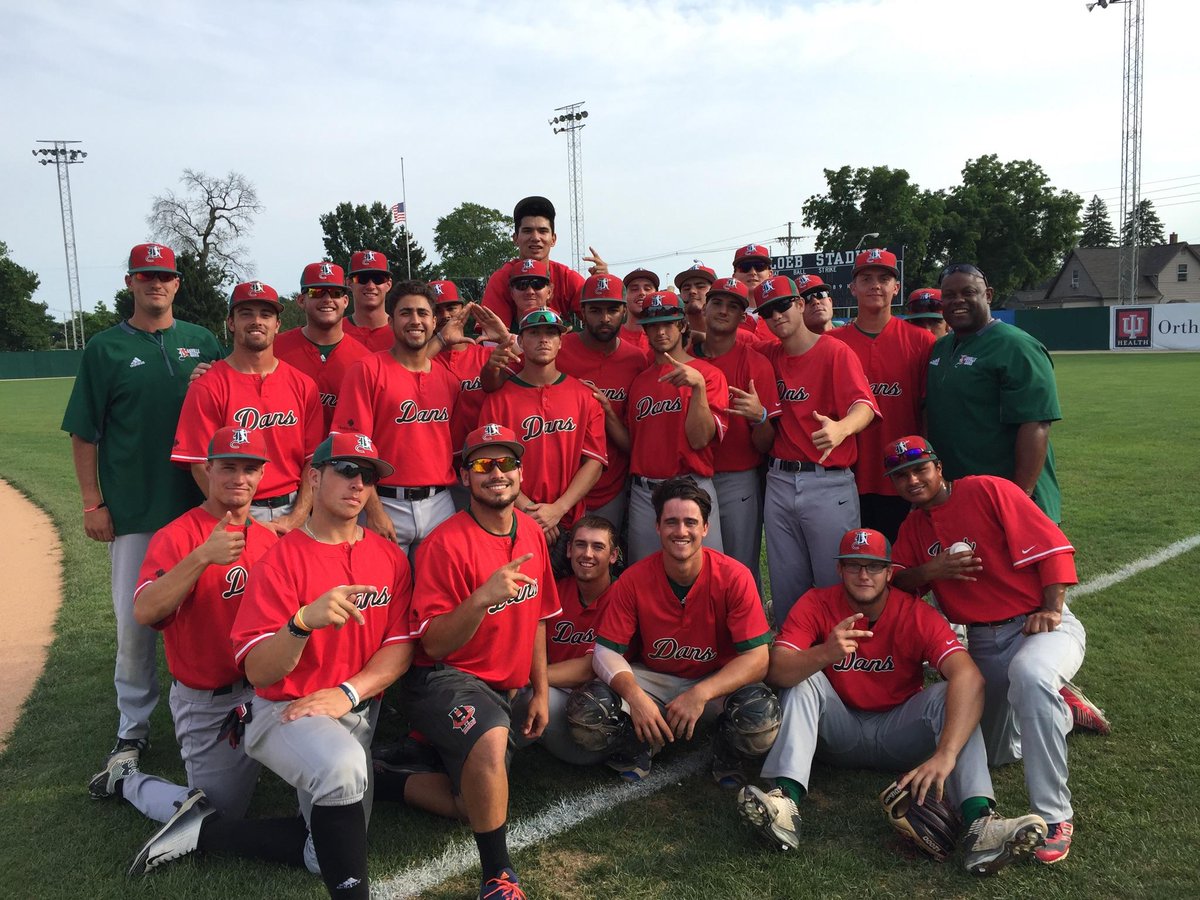 The Dans come back to Danville Stadium for four games this week. And they're riding a six-game winning streak.
Since the All-Star break, the Dans beat Kokomo twice (3-1 & 5-0), and took one from Lafayette 5-2, all on the road.
They are 2 games behind Springfield, and face the Sliders four times in six days this week.
Come out and join the Dans this week at the Stadium!
Dans Head Into All-Star Break with Win
Danville completed a weekend home-and-home sweep of the Quincy Gems with a 9-7 win over the Gems Sunday night. Jeff Houghtby (San Diego) went 4-5 and scored three runs. Brett Rasso (St. Mary's) was 2-3 with a walk, an RBI and run scored. Paul Richan (San Diego) picked up his fourth win, throwing five innings and striking out five. Casey Sullivan (LA Tech) picked up his third save by striking out six of the seven batters he faced.
The Dans head into the All-Star break in third place for the second half of the season, 2 1/2 games behind Springfield. They will face the Sliders four times in the next two weeks.
Danville returns to action Friday, July 15 in Kokomo. The next home game is Two-Buck Tuesday, July 19.

Four Starters, Two Pitchers Named as All-Stars
The Prospect League All-Star Game will be Wednesday, July 13. And there will be four Danville Dans on the West Division's starting lineup. In addition, two pitchers were selected to the team. They include:
Andrew Curran – 2B, IL Central College (going to Eastern Illinois)
Josh Smith – SS, heading to LSU this fall
Joey Fiske – OF, St. Mary's College of CA
Matt Fortin – C, Seton Hall
Bryan Ayers – RHP, Arkansas State
Chris Fearon – RHP, Kansas
Congrats to these Dans!
Dans Take One from Quincy
It took 11 innings, but the Danville Dans beat the Gems 7-5 in Quincy Thursday night. Andrew Curran (going to Eastern IL) went 2-5 with three RBIs, including a sac fly driving in Jeff Houghtby (San Diego) in the 11th. Joey Fiske (St. Mary's College) then scored on a wild pitch to make the final tally 7-5. Tyler Spring (Jones Co. Comm College) threw 2.2 innings, with no hits while striking out six. Chris Fearon (Kansas) threw the final three innings to pick up his 2nd win.
The Dans stole 11 bases in the contest
Dans Win At Home
It took 10 innings, but the Danville Dans broke their four-game home losing streak with a 6-5 win over the Kokomo Jackrabbits Tuesday night. Grant Mayeaux (headed to San Diego State) went 2-3 with a walk, and drove in two runs. Casey Sullivan (LA Tech) pitched the final three innings, striking out seven to get his first win.
The Dans head to Quincy on Wednesday (weather permitting) before taking on DuPage at the Stadium on Thursday.
Five Dans Selected in MLB Draft
The 2016 MLB draft saw three teammates from 2014 drafted, along with a pitcher from last year, and a current Dan. Those selected include:
Bryan Baker (North Florida, Jr) - 2014 RHP, 11th Round by Colorado Rockies
Ben Braymer (Auburn, Jr) - 2014 LHP, 18th Round by Washington Nationals
Dalton Lundeen (Valparaiso, Sr) - 2014 LHP, 30th Round by Detroit Tigers
Robbie Gordon (Maryville U, Sr) - 2015 RHP, 36th Round by St. Louis Cardinals
Josh Smith (going to LSU, HS Sr) - 2016 SS, 38th Round by Detroit Tigers
CONGRATS TO THESE DANS ON GETTING DRAFTED!